The InterContinental Danang Sun Peninsula Resort (IDSPR) has just been crowned as the Asia's Leading Luxury Resort 2015 at the World Travel Awards Asia and Australia Gala Ceremony 2015 at the InterContinental Grand Stanford in Hong Kong on October 30.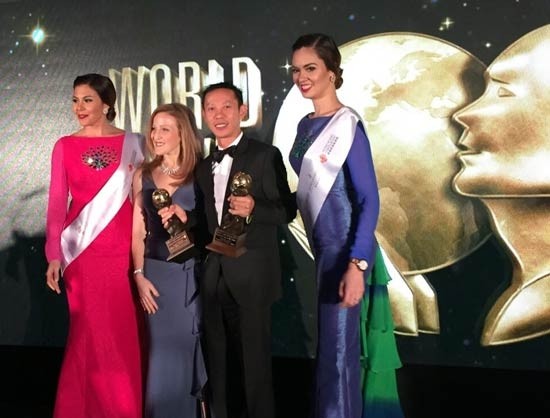 Representative of the InterContinental Danang Sun Peninsula Resort receives the 2015 World's Travel Award
The inaugural ceremony welcomed over a hundred top hoteliers and professionals from around the world.
The resort was aslo recognized as the Asia's Leading Hotel Dining and Entertainment Experience 2015, 2015 Vietnam's Leading Resort and 2015 Vietnam's Leading Spa Resort.
IDSP Resort received a great number of votes from 650,000 tourism experts and visitors throughout the world.
The multi-award winning Resort, a luxury hillside resort and spa overlooking a sparkling private bay is located only 30 minutes away from Danang International Airport and 45 minutes away from the world heritage site of Hoi An.
Famed architect Bill Bensley has reimagined Vietnamese design, history and myth with his characteristic whimsy, creating a magical retreat over four levels—Heaven, Sky, Earth and Sea.
The resort won the annual World's Travel Awards in 2013, 2014 and 2015. In 2014, the InterContinental Danang Sun Peninsula Resort was named World's Leading Luxury Resort.
Established in 1993 , World Travel Awards is the travel industry's most prestigious awards programme, rewarding leaders in the tourism, airline, hotel and hospitality sectors around the world.