India's Pratibha Kala Kendra folk dance group will visit Ho Chi Minh City from October 6 to 9 bringing with them a taste of northern India's famed folk music and dance.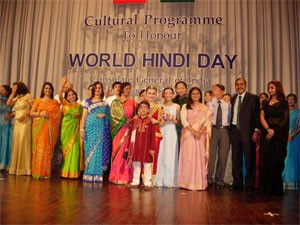 Indian singers and dancers attend a cultural program to honor World Hindi Day in Ho Chi Minh City (Photo: Thuy Hang)
The Consulate General of India will organize a performance by the group at the Ho Chi Minh City Youth Cultural House on October 8. 
The group has 14 dancers and singers led by Ms Pratibha Sharma–a renowned expert of the Charkula dance and folk dances of the Braj region.  
The Pratibha Kala Kendra academy aims to preserve and promote the folk dances of the Braj region, as well as improve the lives of the performing artists who live there.
They have toured extensively, and, outside of India, have performed in the Russian Federation, the United Arab Emirates, and Bhutan. 
 
The group will leave HCMC for Ha Noi for the second leg of their tour of Viet Nam. They will also perform in Binh Duong Province on October 7.