Eight dancers from India will present a performance of Seraikella Chhau, a folk art, at the Youth Culture House in Ho Chi Minh City on September 25.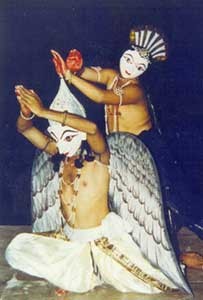 Seraikella Chhau dancers perform Garuda Basuki, a large mythical bird or bird-like creature
The performance is also one of cultural exchange programs between Vietnam and India.
Seraikella Chhau is a unique masked dance form that originated in Singhbhum, an area that finds reference in ancient texts as a part of the region of Utkal.
It is different from other Indian classical dance forms mainly in its treatment of space and communication of emotions -- the dancer thrusts the body upwards and executes spiral turns in the air, using all the space available on the stage.
The second unique feature of Seraikella Chhau is the complete absence of vocal support and facial expressions since the face is completely concealed by the mask. Thus, the emoting is done kinesthetically through body movements.
Every year during spring, the people of Seraikella region evoke the blessings of Kali, the mother goddess, and Ardhnarishwar, a manifestation of Lord Shiva representing the male-female duality inherent in nature, through dance.