The well-known Indian poet Ramakanta Rath will give two public lectures during his visit to Ho Chi Minh City from July 13 to 23.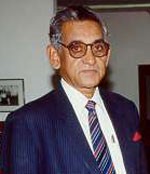 Indian poet Ramakanta Rath
Rath will deliver his first talk, about his love for poetry and literature, at 2:15 pm today in the General Sciences Library, 69 Ly Tu Trong Street, District 1.

Tomorrow he will be at the University of Social Sciences and Humanities, 12 Dinh Tien Hoang Street, also in District 1 to share his knowledge of contemporary poetry, young Indian writers and their works with a mostly student audience.

Born in Cuttack, Orissa in 1934, Ramakanta Rath is one of the most distinguished of the modern Oriya poets.

He is the winner of several coveted awards such as the Sahitya Akademi Prize in 1977 and the Saraswati Sanman in 1992 for the work Sri Radha translated into several languages, the Bishuva Samman in 1990 and India's third highest civilian honor, the Padma Bhushan, in 2006. He was president of India's Sahitya Akademi from 1998 to 2003.

His work, simple in style, is full of melancholy and laments the inevitability of death and the resultant feeling of futility. The poetic expressions found in his creations carry a distinct sign of symbolic annotations to the spiritual and metaphysical contents of life.

Admission to the lectures is free. For an invitation, contact the General Sciences Library on 822 5055 or the university on 824 3326.