The open ending of the Vietnamese feature film Flapping in the Middle of Nowhere, currently showing in Ha Noi and HCM City, proved divisive for audiences.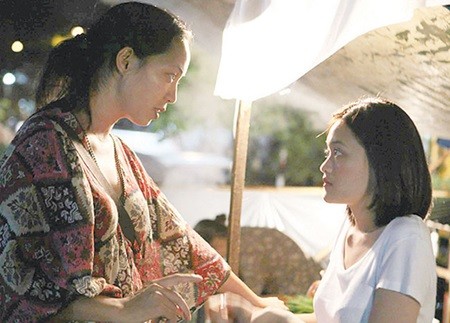 In the middle of production: Nguyen Hoang Diep (left) directs an actress in Flapping in the Middle of Nowhere. — Photo baomoi.com
Despite the love-it-or-hate-it ending, though, Flapping in the Middle of Nowhere proved itself abroad by winning awards at several film festivals, including the 2014 Venice International Film Critic's Week and the third Ha Noi International Film Festival.
The first full-length film by writer-director Nguyen Hoang Diep is the lyrical, enigmatic story of a young woman standing at a crossroads. The 17-year-old college student must decide whether or not to get an abortion.
The film opens with the sound of raindrops and an image of Ha Noi at night. Huyen, the protagonist, lives in a rented house alongside a railway. She has just found out she is pregnant. Her flighty boyfriend Tung, a street lamp repairman and cockfighting enthusiast, is the father.
"Huyen is alone whenever she is in trouble," said Pham Khanh Thuong, who saw the movie in Ha Noi.
"Where are the men in her life when Huyen really needs them? The men left her alone to confront a difficult decision involving her body, as she grapples with the confusing nature of love and lust."
Huyen is like a bird flapping in the middle of nowhere – she doesn't know to where she should fly. The movie reads like her diary, depicting her decision-making process at a difficult turning point in her life. Diep's story draws its audience into the world of Vietnamese youth – all of whom seem to carry heavy burdens.
Diep spent five years nurturing the project, largely funded by European cinema NGOs.
"In my movie, the men always disappear when their woman needs them the most," Diep said.
"That is my feeling. In my mind, the woman is always alone and she is represented by the wet and cold. When I think about women, I see the colours grey and green."
The movie begins and ends with ambient sounds. Images of Ha Noi streets next to the railway and Huyen's rented room, which is very old and stuffy, create a space that is as sultry as the characters that dwell there.
"I think this movie is good," said famed director Dang Nhat Minh. "The director uses professional cinematic language with a modern storytelling style. The director understands women well. It's a little longer than it should be, but it makes a good impression on viewers."
The seemingly water-soaked colour palette created by director of photography Pham Quang Minh and inventive production design by Pham Quang Vinh contribute immensely to the movie's success. Diep's use of simple objects as metaphors deepen the film's impact.
Thuy Anh (Huyen) and singer Thanh Duy, who plays Linh, Huyen's transgender best friend, have charmed audiences with superb acting in their first feature film appearances.
"I was glad to watch the film, which was made very professionally in all aspects," Dang Nhat Minh said. "The director was successful in exploring human psychology. It's very difficult to do that."
Flapping in the Middle of Nowhere is showing with English subtitles at CGV cinemas in Ha Noi and HCM City. The screenings have been held as part of CGV's Art House campaign, launched in January.