Tri Viet Company (First News) announced it has published 'Life without Limits', an autobiography of internationally renowned writer Nick Vujicic in Vietnamese and is available in bookstores nationwide.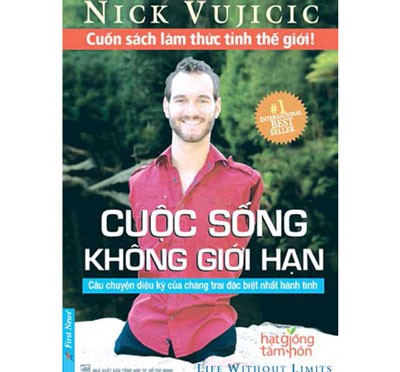 Book cover of Nick Vujicic's autobiography
'Life without Limits' is the true story of a 29-year-old Australian national called Nick Vujicic, who was born without arms or legs, but overcame difficulties and despair to integrate into society and live life to become an internationally renowned motivational speaker.
Vujicic tells his story of his physical disabilities and the emotional battle he endured to deal with them as a child and a young adult.
Vujicic wrote 'Life without Limits' in 2010 when he was 27-years-old. First published by Random House, the world's largest book publisher, in October 2010, the autobiography has become a best seller in 20 countries around the world.
As scheduled, Vujicic will visit Vietnam next May to meet readers and take part in various televised talk show programs--on his incredible efforts to overcome his disabilities.
Life without Limits was translated into Vietnamese by Nguyen Bich Lan, a young woman who was diagnosed with muscular dystrophy at the age of 13.