A unique installation exhibition themed "Chip, chic, chicky" featuring chickens made out of paper will take place at Goethe Institute in Hanoi on June 25.photo courtesy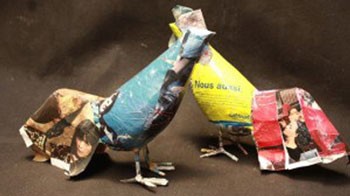 (Photo courtesy of Goethe Institute)
Around 150 handcrafted roosters and hens, created and painted by artist Dinh Cong Dat are on display. The artist is already well known for his sculptures of insects.
Dinh Cong Dat was born in Hanoi and graduated from Hanoi University of Fine Arts. His sculptures have been on display in many cities throughout the world, including Paris, New York, Dubai, London and Tokyo.
The artist will be present during the exhibition to meet visitors and demonstrate how to make chickens with waste paper.
The display will run until June 28 at 56-58 Nguyen Thai Hoc Street.