The Institute of International Education-Vietnam, in cooperation with the U.S Consulate and Thanh Nien Daily News, is holding a photo and essay competition, 'The Environment through the eyes of Vietnamese students,' this month.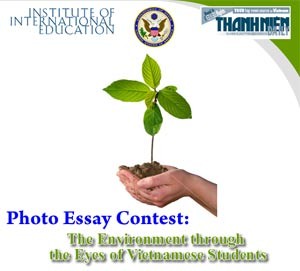 The poster for the contest (Photo: Courtesy of IIE)
The competition is open to all Vietnamese full-time university/college students. It is an outlet and opportunity for photographers to capture different aspects of the environment and to write about those issues in English.

Photographs must have been taken within the last six months and not yet published or waiting for publication. Photos that infringe on copyright are not eligible.

Photographers are also required to submit a short (maximum 300 words) essay in English describing the photo and what it means to them.

Each student is allowed to submit only one photo.

The photo (25x30), two hard copies, should be submitted to the IIE-VN Ho Chi Minh office: 11 Bis Nguyen Dinh Chieu, District 1, HCMC. The deadline is March 31.

After mailing the hard copies to the office, applicants must also submit the photo and the essay digitally to: IIEphotoessaycontest@gmail.com.

The essay will be judged equally with the photo on such criteria as relevance to the theme, clarity of the thesis, originality and creativity, rhetorical sophistication and technical quality of writing.

The award ceremony will take place at the 4th floor of Thanh Nien: 248 Cong Quynh St, District 3 on April 25.

First-prize winner will receive VND5 million ($285) while the runner up will receive VND4 million (US$228). The third, fourth and fifth placed entries will receive VND3 million (US$171), VND2 million (US$114) and VND1 million (US$57), respectively.

In addition, the top five will win a collection of English books and CD-ROMS.