The 2009 International Gong Festival will open at the March 17 Square in the city of Pleiku, the central highland province of Gia Lai, in the evening of November 12 and runs until November 15.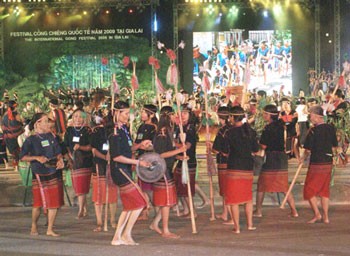 The Buon Trap gong troupe of Dak Lak Province rehearse for the Nov. 12 opening ceremony of the 2009 International Gong Festival (Photo: SGGP)
The festival, this year themed "Space of Gong Culture of the Central Highlands," aims to highlight the gong culture in the Central Highlands, which has been recognized by UNESCO as a 'Masterpiece of the Oral and Intangible Heritage of Humanity.'
According to the province's People's Committee, 22 ethnic groups with 63 troupes and five gong troupes from Cambodia, Indonesia, Philippines, Laos and Myanmar, a total of 3,000 people, will join the event.
Earlier, the Vietnamese High Quality Goods Fair, featuring more than 200 businesses with 450 display booths, was held on November 11.
The province's ethnic groups' handicrafts were also presented to visitors at the fair.
The day also saw the opening of a photo exhibition of Dinh Nup, a freedom fighter of the Bahnar people, who was born and spent most of his life in the idyllic region.
Held at the Gai Lai indoor sports center, the display features 152 pictures taken by over 50 photographers and collected by Nguyen Quang Tue, deputy director of the Gia Lai Museum, of the hero's daily activities and struggles from 1946 to 1999.
Dinh Nup (real name Dinh Nhui), who lived from 1914 to 1998, led the local resistance against the occupying French for many years and was a leading character in Nguyen Ngoc's famous novel Dat nuoc dung len (The country's uprising). He was also the first member of an ethnic minority to be awarded the title "Hero of the People's Armed Forces."
The festival will include gong performances, a food fair, a seminar on promoting investment in the province and a photo exhibition of Space of Gong Culture and the Central Highlands' ethnic culture, among many other events.
The national flag carrier, Vietnam Airlines, will increase the number of flights from Hanoi and Ho Chi Minh City to Pleiku between November 11 and 16.
The provincial Transport Department will also increase bus trips during the festival.

Related articles:
22 ethnic groups to join Gong Festival
Vietnam's biggest gong to be displayed at festival