The most prestigious hospitality competition, the George Baptiste Cup, will come to Asia for the first time when it is held in Vietnam in late May, the Hue Tourism College announced recently.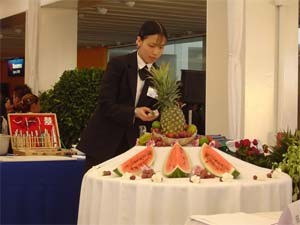 A Hue Tourism College student practices fruit display (Photo: Luxembourg Hotel and Tourism College)
The highlight of "Vietnamese and International Gastronomy" will take place from May 25 to 31 in Hue.   
The whole event will start with the Vietnamese National Cup on May 25, followed by the International Cup on May 29. The event will close on May 30 with the award ceremony and a gala dinner. 
The event will be supervised by Franck Languille, president of the French Georges Baptiste Cup Bureau and maitre d'hotel at the French National Assembly. 
Sixty contestants will come from Vietnam, Canada, Denmark, France, Ireland, Japan, Luxembourg, Mexico, The Netherlands, Poland and Slovenia. 
Contestants will be either trainees of the hospitality sector or professional waiters and head-waiters from haute cuisine restaurants. 
The competition consists of nine tests.  
They are: order taking, cocktail mixing, prepare a cold buffet, fish dish, meat dish and dessert, wine tasting and a general practical test. Trainees will sit a written test and professionals will sit a sensorial analysis test.  
Dishes confirmed for some tests are: tuna fish tartar (cold buffet), grilled sea bream (fish dish), steak with green pepper flamblé with cognac (meat dish), and crêpe flambée (dessert).  
For the cocktail and wine section, every contestant will draw his selection of drinks from a list just before the test.  
The general practical test will be a marketing presentation of Huda Beer.  
Order taking has to be done in French or English, but it must be a different language the contestant's first language.  
Both Vietnamese and international competitions will begin at 9am.  
All jury members come from the hotel sector, with the tests open to the public but from a 'safe distance.'  
The arrival of the international competition to Vietnam is down to the Luxembourg Hotel and Tourism College. It has been involved in Vietnam's service sector, assisting in the reconstruction of the Vietnamese hotel and tourism colleges and the development of curricula and training teachers.  
One of the partner schools of the college is Hue Tourism College. 
The Georges Baptiste Cup has its origins in France, the birthplace of gastronomy, and since 1990 is held every year, moving from one country to another.