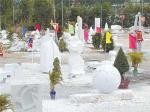 Sculptures in the Symposium
The International Sculpture Symposium "An Giang Hallmark" I - 2003 has been followed by a second Symposium in 2005 - An Giang province hosts, the largest sculpture symposia event held in Viet Nam, from October 31st till December 2005.
This is also the chance for An Giang to make every effort to integrate and exchange cultural aspects into the global culture.

Opportunities

This also is an out-door activity for the spiritual life of the people in the Mekong Delta Region, a pride of the people of Chau Doc Township in An Giang province. The gathering of artists is a lively symbol for friendship between Viet Nam and countries all over the world by creating a modern Vietnamese cultural identity.
Series of activities in 2005 happening in Chau Doc township will result in a Sculpture Garden Park in the Sam Mountain tourist site.
Conditions for the project will be that each of the 60 sculptors from around the world will work on a monumental size sculpture in 40 days out of marble or granite.
The Symposium plans a total number of 60 sculptural works.

The size of each sculpture will be at least 3 cubic meter.
Those sculptural works will be displayed outdoors. The mmaterial must be of long – lasting quality. Therefore, the sculptors will choose various stones mainly rocks from That Son and Thanh Hoa province.

After finishing the symposium, The Chau Doc township People's Committee will establish the Sam Mountain Sculpture Garden Park at a cost of VND10 billion.

Together with the artworks from the first symposium, there are now nearly 100 sculptures to be preserved in the park. Showing the benevolence and energy of the sculptors for the people of Chau Doc township, the park will be a valuable artistic venue of Chau Doc township, and hopefully a destination for tourists to An Giang province, full of historical and cultural vestiges.
The park is expected to open for all, free of charge, by early 2007.