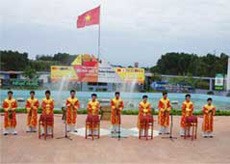 The opening ceremony of the International Sculpture Symposium
The fourth international sculpture symposium "Hue - Vietnam Impression 2006" opened in Thuy Tien tourist area, Hue City, on May 3, 2006.
The sculpture symposium was attended by 30 domestic and foreign sculptors. There are 20 cubic meters of white stone which were brought in from Thanh Hoa and Nghe An.

It is the starting-activity of Hue Festival 2006. The camp will go on for one month and these works will be given to Hue City. The Ford Fund donated US$60,000 to Hue Festival 2006.

According to the organization board of Hue Festival 2006, they have just received two elephants from Dalak to serve in the art programs of the festival.

Together with three elephants already brought in during Hue Festival 2004, two new elephants will take part in "Praise to Heaven" ceremony at Nam Giao Pavilion and Central Highland Gong Festival.