An international conference on promoting Vietnamese literature abroad will be held at the My Dinh National Convention Center in Hanoi January 5-10, 2010.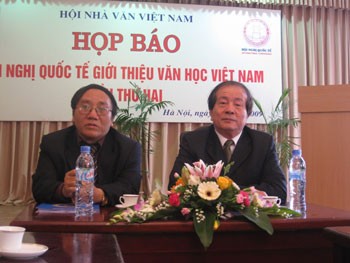 Press conference of the event is organized in Hanoi on December 15.
More than 300 representatives from 32 countries will attend the event, said President of the Vietnamese Writers Association (VWA) Huu Thinh.
The six-day conference will feature four seminars on Vietnamese classical literature, Vietnamese modern prose, Vietnamese modern poetry, and Vietnamese young writers. The seminars aim to give foreign translators, publishers, researchers and others a comprehensive view and knowledge of the history and value of Vietnamese literature.
The event will also showcase outstanding works and writers. An exhibition of domestic and foreign literary works translated into Vietnamese, and a meeting between the VWA and foreign partners will be organized during the conference.
On the occasion, the VWA will present friendship medals to writers, translators and publishers who have contributed to promoting Vietnamese literature to the world.
The first conference was held in 2002 with attendance of representatives from more than 20 countries.