An international martial arts festival has contributed to popularising Vietnamese traditional martial arts both at home and abroad since it took place in the birthplace of this practice, the central province of Binh Dinh.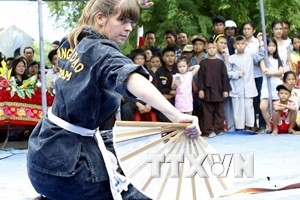 (Photo: VNA)
The event, from August 1-4, was the fifth and largest of its kind. It drew more than 120 teams from 23 countries and territories, said Deputy Chairman of the provincial People's Committee Mai Thanh Thang, head of the organising board.
A highlight of the festival was the recognition for the local martial arts as a National Culture Heritage.
Meanwhile, 97 teams were merited with gold medals for their outstanding performances.
Master Laaabi Hatim from Morocco said though he has joined the event for the first time, Vietnam martial arts has been popular for the past 30 years in his country.
The festival welcomed thousands of domestic and foreign spectators.