The annual Tay Son-Binh Dinh Martial Arts Festival closed Sunday in central Binh Dinh province after three days of ceremonies, exhibitions, entertainment and a beauty pageant for kung fu experts that managed to attract tens of thousands of spectators.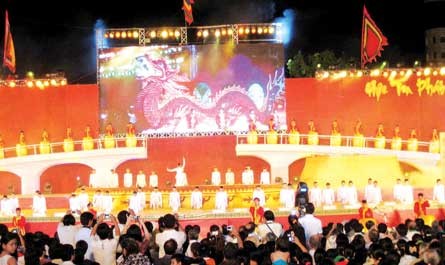 The closing ceremony themed "convergence and development"
Themed "Tay Son spirits, convergence and development", the carnival saw over 1,000 martial artists from 26 countries and local kung fu experts compete in various styles and stances.
For the first time, women from various martial arts schools in Viet Nam and other nations including France, Italy, and Russia took part in a beauty contest titled "hoa hau nhung mien dat vo" (beauties from martial arts lands) where Bui Thi Thanh Thao emerged triumphant.
The 20-year-old from Binh Dinh received a cash prize of VND100 million.
During this event, six records were established including "event with the most martial art programs", "installation exhibition with the most masks and images" and "the largest banh trang nuoc dua (griddle cakes with coconut milk)"
Twenty colossal banh trang nuoc dua - Binh Dinh specialty - were on display, each measuring 3.2 meters in diameter. They took 14 days to complete.
Binh Dinh province is considered the cradle of Vietnamese martial arts, famous for its Tay Son-Binh Dinh martial arts school from the 18th century.
This is the second time the province has hosted the festival. This year, twice the number of spectators attended, undoubtedly making it the largest festival of its kind in Viet Nam so far.