According to Mr. Nguyen Kiem, Director of Publishing Department, the International Standard Book Number (ISBN) code will soon be given to Vietnamese books, which will facilitate Vietnamese publishing companies to expand their market to the world.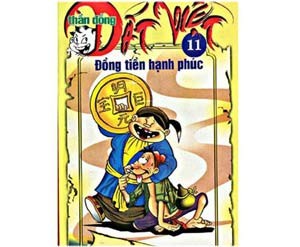 The famous Vietnamese Prodigies comic
ISBN is a standard code containing 13 digit numbers used to provide a book's information on its title, writer, language, publishers and nationality.  
"By typing the ISBN code of a certain book on Google webpage, customers can get access to the related information and if they decide to get it, they can carry out the online transaction," said Ms. Phan Thi My Hanh, Manager of Phan Thi Publishing Company. 
In recent years, due to the lack of ISBN code, most of Vietnamese books including the famous "Vietnamese Prodigies" comic were rejected by many U.S. big publishing houses.  Therefore, with this advantage, Viet Nam is hoping to narrow the gap between the export and import rates in the publishing market (70% of books and magazines in Viet Nam are imported ones).  
The ISBN system will pave the way for Vietnamese publishing companies to integrate into the world market, but they themselves had better stand on their own feet than resort to some technical measure, Mr. Kiem commented.