A series of documentary films titled "Dragon and Butterfly" about Viet Nam and its people have been introduced to Italian viewers on the Marco Polo Channel since April 1.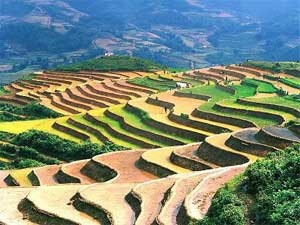 Sa pa town, one of the most famous beauty spots in Viet Nam

Each one-hour episode is broadcast daily to bring Italian viewers a glimpse of the far-off Asian country called Viet Nam, which has managed to overcome an extensive history of resistance and independence wars to emerge as one of the fastest growing economies in the world.

The series is a vivid reflection of the country through the eyes of foreign visitors. Each outstanding attraction of the country, from four thousand-year-old Ha Noi to the southern economic hub of Ho Chi Minh City, has taken a turn making an appearance onscreen to provide Italians with insight into the country's natural and cultural beauty.

Each episode bears a different title; "Dragon and Butterfly," "A Song of Rice," "Ha Noi, Uncle Ho and Red River," "Saigon – Ho Chi Minh City," "Kingdom of Sea," and "Viet Nam, Nowadays" have helped to satisfy the curiosity about Viet Nam shared amongst many Italians.

The show also featured several interviews among Vietnamese and Italian diplomats and businessmen. Viet Nam is considered one of the most important bridges to connect Italy with Southeast Asia as per the Mediterranean country's diplomatic strategy for the period leading up to 2020.