ITV Thai private Television will cooperate with three TV stations in the lower Mekong River region: Viet Nam's Ho Chi Minh City Television, Cambodian TV5 and Laotian National TV to serve 150 million viewers.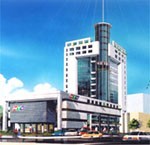 Ho Chi Minh City Television's Head Office
These TV stations will exchange information, TV programs, documentaries and later on set up propaganda communications network and produced TV programs with an aim to let viewers in the region deeply understand the similarities and differences between the cultures of each nation. Besides, the cooperation program also includes the exchange of experience, technology and staff training.
"The program will also contribute to the regional economic development in the future", said managing director of ITV.
The program will start by the information exchange of economic, social and cultural issues which ITV will broadcast to its partners in the "Evening news" and "Hot news" programs. Information on political issues will not be included in the cooperation program.
Although, the four countries of Viet Nam, Thailand, Laos and Cambodia have certain similarities in culture and lifestyle, most people are not informed of issues taking place in their neighboring countries. The cooperation program will help boost further understanding among countries and promote relation among regional peoples.