The Chinese movie star Jackie Chan, as ambassador for Operation Smile, paid a visit to harelip and cleft-palate children at the Vietnam-Cuba Hospital in Hanoi with Miss Vietnam 2006 Mai Phuong Thuy November 5.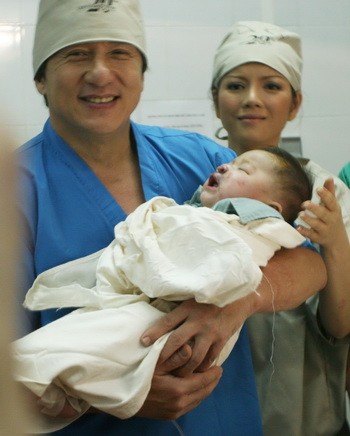 Jackie Chan holds six month-old boy Tran Quy Thien in his arms after surgery of the kid in Hanoi. (Photo: TTO)
He then also attended a two-hour surgery for a six month-old boy at the hospital and was so happy for the success of the operation.
On this occasion, nearly 150 harelip children will be provided free surgery at the hospital.
More than 1,000 children born with facial deformities nationwide will be given free surgery. In addition, over 1,000 children will receive free dental care.
The world-famous actor and martial arts expert arrived in Vietnam on November 4 to spend three days visiting harelip and cleft-palate children.
After attending a press conference at the International Hanoi Westlake Hotel, he took part in a gala dinner to raise money for children with disabilities and celebrate the 20th anniversary of Operation Smile together with Ambassador of Smile Ly Nha Ky, and pop stars My Tam and Dam Vinh Hung.
At the event, the movie star was presented with a medal for Peace and Friendship from the Vietnam Ethnic Organization for his outstanding contribution as an ambassador for Operation Smile.
Jackie Chan is the first international star to receive the medal.
The organization also presented medals and certificates of merit to members of Operation Smile for their efforts in helping children in Vietnam.
He will return to China on November 6 before traveling to Thailand, Singapore and India to continue his philanthropy.