A 17-member troupe from the Ho Chi Minh City-based Rong Vang (Golden dragon) Water Puppet Theater will take part in the Kijimuna Festa, one of Japan's most prestigious and popular theater festivals for children and young audiences, to be held in Tokyo from July 20 to August 6.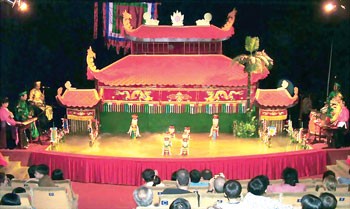 A Rong Vang Water Puppet Theater's performance.
To comprise a producer, three directors, six bandsmen, and seven actors, director Huynh Anh Tuan said it will put on seven shows in Japan.
The Kijimuna Festa organizers, while making a survey of traditional Southeast Asian arts in November 2007, visited HCMC and were attracted by Golden Dragon's performances.
They invited its officials to Japan to learn about Kijimuna Festa and its artists to participate in the festival three months ago, Mr. Tuan added.

This year's event will be attended by artists from 13 countries and territories -- France, Australia, Germany, Denmark, Bulgaria, Croatia, Taiwan, Korea, Cambodia, the Philippines, Vietnam, and Japan.