For the last 12 years, two Japanese archeologists have been living in the country only because of their deep love for Vietnamese history.
Noriko sits cross-legged on a mat on the floor picking boiled morning glory with chopsticks, dipping the vegetable in braised fish sauce while her husband, Nishimura, accepts rice wine from their host and appraising the wine in the way Vietnamese people do.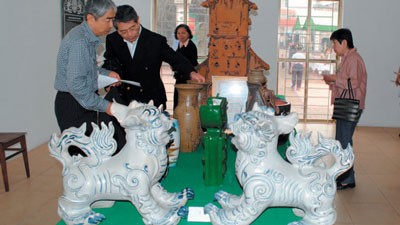 They save most of their money for their work and for constructing a unique museum of porcelain in the village
Watching Noriko lie curled on the mat and Nishimura and their two children playing in the Red River sandbank, anyone would believe them to be Hanoians spending their vacation in Kim Lan Village.
Only when one looks closely at the ancient bowls and broken brick pieces do people realize their actual work in Vietnam is that of two passionate archeologists, who live and work quietly in complete devotion to their work.
Noriko arrived in Vietnam in 1999. Once, in a souvenir shop in Hanoi she was stunned to see ancient bowls selling for only US$10,000 a piece.
At that time she had no money to buy them but was able to see a similarity between Vietnamese culture and her native culture in Japan.
Ever since that day she has been studying Vietnamese antique items and the culture of the country. She also learnt the Vietnamese language so she could present her thesis topic on Vietnamese porcelain for her PhD.
Her first archaeological excavation was of a 300-year-old grave of a Japanese man in the ancient town of Hoi An in the central province of Quang Nam.
This passion led her to meet her present husband in a chance encounter. Once while visiting a historian in Hanoi, she met Nishimura, who she later married. Both now work as archeologists, a profession that has grown since they worked together on a project of the Archeology Institute in Kim Lan Village.
The project required excavating ancient items in a garden and the banks of the Red River based on sketchy accounts of farmer Nguyen Viet Hong. As fate would have it, this brought the couple to Kim Lan Village in North Vietnam where they have lived for the last 12 years.
At first, the villagers kept their distance from the couple but soon began to love the two Japanese. Noriko and Nishimura love their simple countryside lifestyle in the village and residents in the village are always willing to lend a helping hand to the two archeologists, sensing their great enthusiasm for their work.
Their efforts in looking for ancient items is not futile as they discovered traces of ancient culture from thousands of ancient items unearthed along the sandbanks of the Red River such as broken tiles, decorative bricks, bowls and coins, with some showing influence of Japanese culture.
Although Noriko and Nishimura are living in a rented house in a small alley and move around on buses or motorbike taxis or sometimes drive themselves, they save most of their money for their work and for constructing a unique museum of porcelain in the village.