Various Japanese artistes and a leading Japanese conductor, Hideki Togi, will come to Vietnam for two days of concerts, Sound of Culture, on July 14 and 17.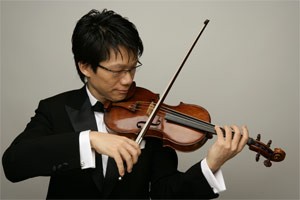 The Japanese violinist Narimichi Kawabata will perform at the opening concert on July 14 at HCMC Conservatory of Music (Photo: Courtesy of KAD Corporation)
The first performance will take place in Ho Chi Minh City while the other one will be hosted in the Central city of Hue.  
The Ho Chi Minh City concert is a performance by Tokyo New City Orchestra and the world popular Japanese violinist Narimichi Kawabata.  
Three masterpieces will be played, including Triptque for Spring Orchestra by Yasushi Akutagawa , Concerto for violin, op.64 by Mendelssohn and Concert No.3 op.90 by Brahms.  
The Tokyo New City Orchestra's music director, Akira Naito, will conduct. 
The performance starts at 8pm at the HCMC Conservatory of Music. 
Tickets are available at the box office (112 Nguyen Du, District 1) or via the hotline: (+84) 8384 3774. 
Tickets cost VND200,000 (US$11) each.  
The Hue concert features the debut of a Japanese traditional performing art, Gagaku, by the Japanese artiste Hideki Togi. 
Other traditional Japanese music will be performed by the Tokyo New City Orchestra, with performances of Vietnamese royal music by the Hue Royal Music Orchestra. 
Some works to be performed are Aoiki umino michi, I am with you, Hikari Furu Oto, Holberge Suite Allegro vivace, Andante espressivo, Tam luan cuu chuyen (a royal music performance with an important role in a ceremony to welcome the gods) and Luc cung hoa dang (a dance, originated in Buddhism, to bring six offerings to the gods). 
The show will take place at 5pm at the Thai Hoa Palace. 
Invitation tickets can be had at the KAD Corporation's office (2nd floor, 382/17-19 Nguyen Thi Minh Khai, District 3) 
This musical event is to highlight the year of exchange between Japan and Mekong Delta countries. 
The event is organized by the World Heritage Concert Committee and Tokyo New City Orchestra with the support from Vietnam's government, Hue city's People Committee, and the Japanese Embassy.