World famous Japanese comic series 'Doraemon' celebrated its 20th anniversary in Vietnam on December 9 at the zoo in Ho Chi Minh City with several cultural activities like cosplay, photo contest and meetings with Doraemon fans.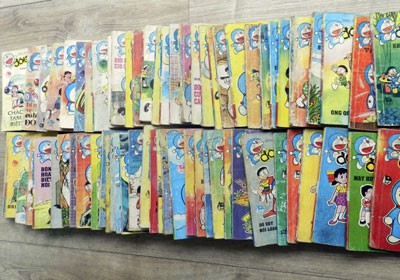 The first edition of the series in Vietnam
The event was hosted by the series authorized publisher in Vietnam--Kim Dong Publishing Company. 
Though the series only received a lukewarm response initially, it slowly gripped readers in Vietnam. Reflecting on the tough early days, Mr. Nguyen Phu Cuong, a staff member from Kim Dong said, "The first press conference for the series only attracted eight small retailers from among 60 that were invited. The first episode of the series was issued at 2pm on December 11, 1992 which drew a lot of interest from the public.
Then unexpectedly, the series became a hot topic among Vietnamese readers. The issues sold rapidly, from thousands to hundreds of thousands. Long queues of Vietnamese teenagers waited for new episodes of the series at book stores, which became a common sight," said the staff proudly.
   
The series later became the first authorized comic series in Vietnam. Kim Dong editor-in-chief Nguyen Thang Vu paid US$100,000 for the full copyrights for Vietnam. He also proposed to the Japanese partner to co-host the Doraemon scholarship fund for Vietnamese children. The fund worked very well to help children continue their studies.
Over the years, the series has been translated and reprinted many times.
The Doraemon comic series belongs to Japanese mangaka Fujiko F. Fujio, whose real name is Hiroshi Fujimoto, and originally ran from 1969 to 1996 in the Japanese market.