The Center for the Preservation of Hue Relics has joined hands with the UNESCO World Heritage Institute of the University of Waseda in Japan to undertake the restoration of the Long Duc Palace in Dai Noi (the former imperial city of Hue).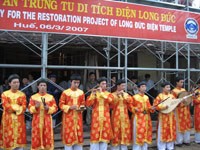 The ground-breaking ceremony of the restoration of Long Duc Palace 
The total cost of the restoration is expected to be more than VND1.6 billion, half of which will come from each of the project's two partners.
The project represents one phase of the planned restoration of the entire Can Chanh Palace in the Hue imperial city to be completed by 2009.
The Long Duc Palace was built in the reign of Gia Long of the Nguyen Dynasty in 1804 and illustrates an architectural style typical of Hue imperial palaces.