A concert, "Vietnam Airlines Classic 2009," featuring Japan's Orchestra Libera Classica will be held at Hanoi Opera House on October 1.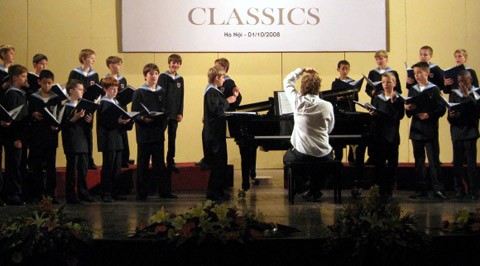 The Orchestra Libera Classica
Thirty-four members of the orchestra come from Japan and Europe, who also play for various other orchestras from around the world.
The musicians gather together only a few times a year to practice, record and play in concerts.
The orchestra will perform works by Mozart, Haydn and Beethoven under the baton of conductor Hidemi Suzuki, who won first prize at the 48th Japan Music Competition in 1979 and at the 1st International Baroque Cello Competition in Paris in 1986.
He is founder of the Orchestra Libera Classica, which has given over 30 concerts since 2004.
The conductor was invited to Hanoi twice as a cellist and a conductor. He will also conduct the Vietnam National Symphony Orchestra in November.
Vietnam Airlines' Classic Series is an annual music event organized by Vietnam Airlines to promote cultural exchanges between Vietnam and the rest of the world.
The first show of the series, held last year, introduced local music lovers to the world renowned Vienna Boys' Choir from Austria.