Jazz musician Quyen Van Minh once again will present jazz rhythms to the Hanoians, with two consecutive jazz concerts at the Ha Noi Opera House in April.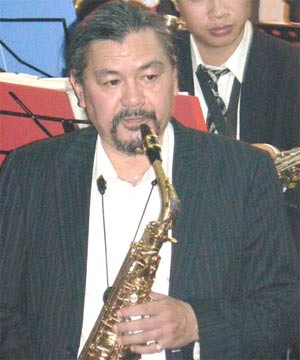 Quyen Van Minh, 55, will revive jazz melodies in Ha Noi
The first concert, 'Quyen Van Minh va ban be voi nhac jazz' (Quyen Van Minh, friends and jazz music) on April 6, is a collaboration between Minh, Big Band Song Hong band, singer Ngoc Thuy and various musicians aimed at reviving classic jazz melodies.
 
They will also perform Vietnamese jazz works, like 'Thu hoai niem' (Memorial autumn), by Ha Dung, and 'Nhung phut giay qua' (Moments pass by), by Quoc Truong.
 
Three weeks later, Minh will play once again, with a new version of last year's concert 'Cha, con va Jazz' (Father, son, and Jazz).
 
'Cha, con va Jazz 2' will present international classical hits and some Vietnamese folk songs remixed in a jazz style. The concert consists of solo and duet performances by Minh, his son, Quyen Thien Dac, and his friend Luu Quang Minh.
 
The show will also welcome Big Band Song Hong.
 
Minh is one of the pioneers of jazz music in Vietnam. He is the jazz teacher of many reputed saxophonists in Vietnam, among them his son Dac, who was the first Vietnamese to graduate from the US's Berklee College of Music.
Minh has been living jazz for 41 years and hopes that the fire of his concerts will warm the hearts of listeners.