A jazz music night featuring Italian pianist Eric Legnini will take place at the French Culture Center at L'Espace in Hanoi on June 14.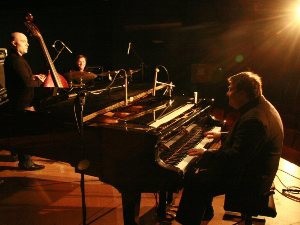 Italian jazz pianist Eric Legnini
The pianist will perform together with drummer Frank Agulhon and contrabass Rosario Bonnacorso.
Eric Legnini has become one of most talented pianist in the jazz scene within the last ten years, varying from amateur hip-hop and swing, melodies of 1970s, mixtape of 2000 and virtuosic jazz to splendid soul.
After studying under Richie Beirach in New York, he worked for singers like Serge Reggiani, Henri Salvador and Claude Nougaro.
Although being swept away by the swing, which requires brevity and the piano playing method that makes it sound natural, Eric Legnini's compositions still remain faithful to the core values of jazz and show his love for African-American music in all its diversity.
Legnini has done high-quality recordings such as Essentiels (1990), Antraigues (1993), Rhythm Sphere (1995), Miss Soul (2005), Big Booggaloo (2007), Trippin (2009), Ballads (2010) and The Vox (2011).
Tickets are priced VND50, 000 and VND100, 000 and are available at L'Espace, 24 Trang Tien Street, Hanoi.