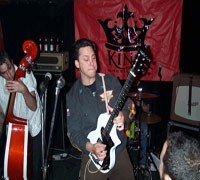 Jesse Dayton Band
The U.S. Consulate General in Ho Chi Minh City and U.S. Embassy in Hanoi host American Country Western music for the first time ever in Vietnam with the May 9-18 Vietnam tour of the internationally acclaimed Jesse Dayton Band.
The Jess Dayton band will perform in Ho Chi Minh City on May 11 at 8 PM at the HCMC Youth Cultural House, 4 Pham Ngoc Thach, District 1 and in Vung Tau on May 12. The concert will also mark the first US-sponsored cultural event in Vung Tau. The group will move on to Haiphong for a May 15 concert at the Haiphong Maritime University Concert Hall and a May 17 Hanoi performances at the Youth Theater. The Jesse Dayton Band will also conduct master classes for students of the Ho Chi Minh City and Hanoi Conservatories of Music.
Band members include Jesse Dayton, Vocals; Eric Tucker, Drums; James Elmo Sproat, Bass; and Nathan Fleming, Steel Player. Jesse Dayton and his band have toured the U.S. and have performed in Thailand and in Europe.