Pleiku City was brightened with a colorful firework in a bustling opening ceremony titled "Resounding gong and Central Highlands' vitality" of the 2009 International Gong Festival on November 12.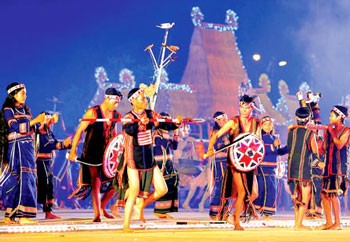 Ethnic dancers in Central Highlands perform in the opening ceremony of the 2009 International Gong Festival.
On stage were images described the highlands cultural character such as gong performance, young ethnic minority people in their traditional costumes, nha rong, (a traditional stilt house of the ethnic groups of the Highlands), ruou can (Can wine- a popular wine drunk out of a jar through pipes in central highland region), imposing falls, high mountain and thick forest.
More than 3,000 people included artists and visitors together with the country's leaders likely Ha Thi Khiet, Secretary of the Central Committee of the Party cum head of Communist Party of Vietnam Committee for Mass Mobilization; the head of the delegation and chairman of the National Assembly's Council for Ethnic Minorities , Ksor Phuoc; Minister of Culture, Sport and Tourism Hoang Tuan Anh; representatives of the UNESCO, and local and  international organizations joined in the event.

Related article:
International Gong Festival opens in upland city