The ancient capital city of Hue will brighten under a colorful fireworks display put on by French pyrotechnic artist Pierre Alain Hubert, as part of the bustling opening ceremonies of this year's Hue Festival, which begins June 5.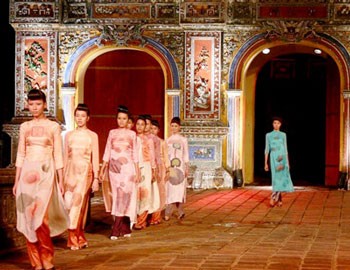 Ao dai fashion show in Hue festival 2008 (File photo: SGGP)
The festival has revived the tradition of ancient ceremonies, which were thought to have fallen into oblivion.  The event includes Hue Royal Palace by Night on June 5, 8 and 11 and the "Praise to Heaven" ceremony at Nam Giao Pavilion on June 9.

The Nam Giao Offering Ritual will see 1,000 artists with 1,000 white lotuses, symbolizes prayers for a peaceful country and prosperous people, as well as the grand celebration of 1,000th anniversary of Thang Long –Hanoi.

To celebrate the 1,000th anniversary of Thang Long-Hanoi and Nguyen Phuc Lan Lord's selection of Kim Long (a village 10km from Hue City) to be the capital city of the Southern Kingdom, a performance of the "Land Reclamation Itinerary" and the "Navy Maneuver Under the Dynasty of Nguyen Phuc Lan Lord" will be re-enacted onstage on June 7.

The event features a series of cultural activities. Visitors will have the chance to take part in the "Legend of the Huong River" program on June 6 and 12 along the Huong River, a fashion show featuring Ao Dai (traditional Vietnamese dresses) designed by Minh Hanh, Si Hoang, Viet Lien, Viet Bao, Thuong Huyen, Quang Huy and Thu Giang on June 8 and traditional music performances, food fairs, royal folk games and street festivals that will take place throughout the celebration.

One of the highlights is an art performance titled "Breath of water" on June 6, 9 and 11 on a floating stage on Tinh Tam Lake. The play tells a love story about the separation and reunion of a young man and a beautiful lady selected as a maid in the imperial palace.

Traditional Vietnamese music, recognized by UNESCO, includes Nha Nhac Hue (Hue royal court music), Quan ho Bac Ninh singing (Bac Ninh folk love duets) and Ca tru (ceremonial songs), which will all be performed in the play.

More than 40 art troupes from 27 countries including France, Argentina, the US, UK, Poland, Australia, India, Japan, Laos, Cambodia, Senegal, Russia, China, Belgium and more will take part in the nation's largest cultural event.

Hue Festival 2010 will feature hundreds cultural activities that honor the cultural values of ancient Vietnam and its former capital. The event will also bring together representatives of ancient capital cities and cities with world cultural heritage sites and traditions, said head of the festival's organization board and Vice Chairman, of the Thua Thien-Hue provincial People's Committee Ngo Hoa.

The 9-day event is also a special art and cultural forum in the country and region promoting international exchange, socio-economic development and Vietnamese tourism.