Many of the city's entertainment venues are busy these days, offering exciting activities centered around Christmas and New Year's celebrations.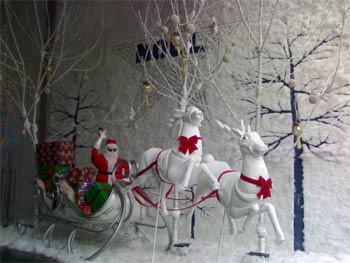 Disadvantaged children will receive gifts from Santa (Photo:KK)
A pop-music concert entitled "The flame in the winter night" took place at Ho Chi Minh City's Youth Cultural House on December. 21. The show was attended by, among others, more than 500 children from local orphanages and centers for disadvantaged children.
Organizers of the show included Singapore's Gentle Fund Organization (GFO) and GP Communications Company.
The GFO was established by the Vietnamese community in Singapore to provide education and health services to disadvantaged children in Viet Nam, as well as offer information to Vietnamese nationals headed to Singapore for medical treatment.
Children will be treated to a "European Christmas Eve" taking place on Dec. 23 at Military Zone 7 Stadium where they will enjoy a 30 meter-high Christmas tree and take part in a gift exchange with 100 Santas, seven Snow Whites and 49 dwarfs.
All children attending the event will receive gifts from Santa, enjoy Christmas goodies and take in a concert featuring artists Dam Vinh Hung, Dan Truong, Thanh Thao and French artists Sharon Julia and Florence Bourdon. 5,000 gifts will be reserved for disadvantaged children in the city.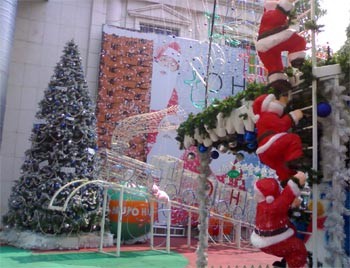 Santas are coming to town (Photo:KK)
Mom and Dad needn't be envious of the children though, since there will be a music and fashion show entitled "Light of the Galaxy" presenting favorite Christmas songs and special collections of well-known fashion designers including Nguyen Cong Tri, Truong Thanh Hai, Kiwi, and JESS. It will take place at the Phan Dinh Phung Indoor Stadium at 8 p.m on December 23.
The show will present artists including Quang Dung, Phuong Thanh, AC&M, and MTV as well as top models such as Xuan Lan, Thanh Hang, Thuy Vinh and Ngoc Quyen.
For the more traditionally-minded, a concert of chamber music including masterpieces by Debussy and Tchaikovsky will be put on by artists Ta Minh Tam and Thu Giang. The concert will take place at the Ho Chi Minh City Conservatory of Music on December 23.