Kate Festival 2012 of the Cham ethnic minority people, followers of Brahmanism, was opened at the Po Sah Inu Towers relic site in Phan Thiet City in the central province of Binh Thuan this morning, October 16.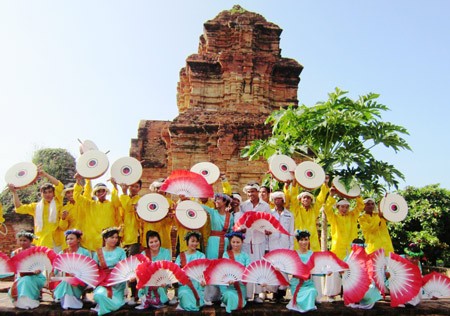 Kate Festival 2012 kicked off in Binh Thuan Province on October 16 (Photo: SGGP)
The Kate Festival is the largest and most important one among tens of other festivals of the Cham people. It is hosted annually on the first day of the seventh month of the Cham calendar.
Besides many rituals held at the Po Sah Inu Towers, the festival is also celebrated in villages and in each family home.
Vo Hoang Tuyet Linh, deputy director of the Department of Culture, Sports and Tourism in Binh Thuan Province, said that the Kate Festival is one of seven traditional festivals which have been chosen by the province as a cultural event, to promote and develop tourism.
This is the 8th consecutive year the festival is being hosted at the site of the towers to worship the Po Sah Inu Goddess.
Besides following the main rituals, the Kate Festival also holds a ginger cake-making competition, offers Cham cuisine, displaying and decorating offerings for the Goddess, national musical instrument performances and introducing traditional clothing.