The Keo Pagoda festival in Duy Nhat village of Vu Thu District in the northern province of Thai Binh kicked off on the sixth day of the Lunar New Year (Jan.28), attracting tens of thousands of people from across the country.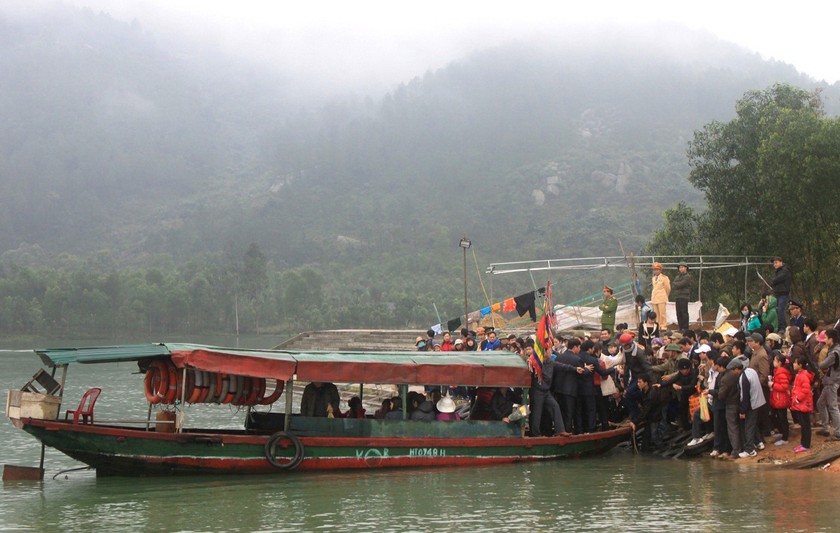 People travel by boats to visit Huong Tich pagoda
People burnt incense to commemorate the Buddhist monk Duong Khong Lo and those who constructed the pagoda in a unique architectural style in the 17th century.
The festival will last several days during which many cultural activities will take place like folk musical performances including Quan Ho (love duet singing) and Chau Van (spiritual singing), a competition to catch ducks, climbing the Ngo bridge and water puppetry shows.
Meanwhile, the Tet festival in Hue which is in preparation for 'Hue Festival 2012' also kicked off on the same day, featuring 24 foreign art troupes from 14 countries.
Besides the festival in Thai Binh, the northern province of Bac Ninh is also celebrating a pagoda festival of Ba Chua Kho for luck, fortune, fate, happiness and longevity in the Lunar New Year in Co Me Village of Vu Ninh District.
People believe that Ba Chua Kho will bring them prosperity.
For centuries, festivals in these villages have been traditionally preserved and celebrated, lasting until the end of the first month of the lunar year. Today, these festivals not only attract tourists from within Vietnam but also foreigners who visit Bac Ninh and want to enjoy the festive atmosphere.
The Huong Tich Pagoda in Ha Tinh district of Can Loc opened on the sixth day of Lunar New Year (Jan. 28), attracting tens of thousands of people from across the country and Vietnamese oversea.
The opening ceremony started with folk musical performances and sport activities including wrestling, unicorn dances, cock fighting ...
In preparation for the festival, Can Loc District and Hong Linh Tourist Company invested more than VND 120 billion (US$6 million) to upgrade infrastructure and trains and build a 1 km long cable system for local tourists to visit Huong Tich pagoda, according to Nguyen Duy Duc, Head of Historical-Cultural relics Management of Huong Tich pagoda. The cable system with 25 cabins meets with standards of European countries.
A modern waste treatment plant and 12 boats was also installed to ensure environmental sanitation and to serve tourists during the event.