Various activities are taking place at Diamond Bay and Hon Tam Island in Nha Trang city, central Khanh Hoa province as part of a cultural exchange between Vietnam and member countries of the Commonwealth of Independent States, known as SNG.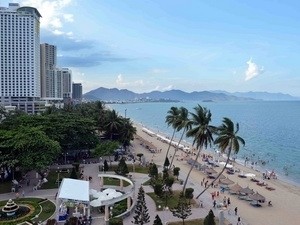 Nha Trang (Photo: VNA)
Some of the notable activities include a fashion design programme for people aged 17 – 35, a singing and dancing programme for those between 5 and 50, and a model contest with participants from Russia, Kazakhstan, Azerbaijan and Vietnam.
Renowned artists from Vietnam and SNG countries also joined the exchange, which is held from October 27 to 29.
This event is the first of its kind since direct air routes linking Russia and the province's Cam Ranh International Airport were launched in late 2010.
Khanh Hoa has welcomed 70,000 arrivals from SNG countries since the beginning of 2013 and expects over 100,000 tourists from these markets this year.