The Ponagar festival which is the biggest cultural event held by Cham people was opened on May 9 (or 21 of the third month in the Lunar Calendar) in Nha Trang coastal city in the central province of Khanh Hoa.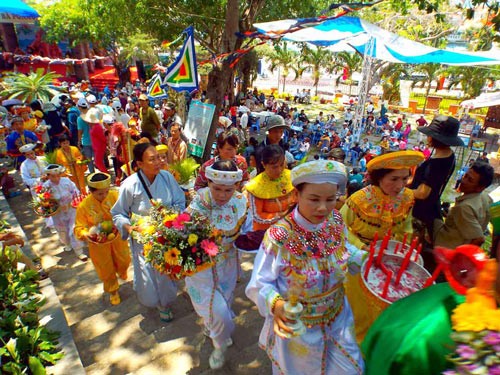 The event was kicked off in the central province of Khanh Hoa's Nha Trang coastal city (Photo: SGGP)
The Ba Ponagar Tower Cluster, one of the country's resplendent, almost intact Cham relics, is nestled atop a hill in Vinh Phuoc Ward of Nha Trang City. It was built in the middle of century VIII to pay tribute to goddess Yan Po Nagar, or Thien Y A Na Thanh Mau in Vietnamese, who is identified with the Hindu goddesses Bhagavati and Mahishasuramardini. in legend it is believed that Thien Y Thanh Mau taught locals how to do farming, weaving and knitting along with several other vocations to fend for themselves and safeguarded them from calamities and wars.

The 1,200-year-old Ponagar tower cluster was recognized as a national historical relic.
It still keeps 28 literature items dating back from 784 to the end of century XIII and 14 wooden rare, historically-significant title conferral document released by the Nguyen Dynasty.
The tower cluster is specifically valued in the architecture, sculpture, statue.

The event also earned the recognition as an intangible national heritage.

In 2013, the festival was recognized á an intangible culture heritage. It is held annually in order to honor the goddess and wish the country's peace and prosperity for the whole year.