Khmer communities in 12 southern provinces and cities are planning to hold a festival of culture, sport and tourism in Can Tho city from December 5-8.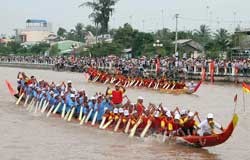 Ghe Ngo (Khmer people's traditional boat) race will be held in the festival.
The Ministry of Culture, Sports and Tourism and the Can Tho municipal People's Committee informed reporters on November 25 that the event aims to preserve and promote the cultural identity of the Khmer people, thus enriching their cultural life and contributing to socio-economic development in Khmer-populated areas and the entire nation as a whole.
The festival will embrace six themes, encompassing all aspects of traditional Khmer life, ranging from amateur art performances to a costume fashion show, folk games, traditional cuisine, and cultural exhibitions and exchanges.
Most worthy of note is the Ghe Ngo racing, in which the Khmer people will display their skills in racing these long, thin, traditional boats, often carved from the hollowed-out trunk of a single tree, with each boat capable of holding up to 50 men. These races are the most popular and eagerly-anticipated event at important Khmer festivals.
The festival will offer an opportunity for Can Tho city to promote its local culture and tourist activities.
Deputy Director of the municipal Department of Culture, Sports and Tourism Le Thanh Phong said that the city has invested more than 70 billion VND in the construction of a cultural and sports centre.
He added that the municipal travel industry has taken the initiative in collaborating with travel agents across the country to promote typical local tours and activities, such as orchard tourism, eco-tourism, tours of floating markets and one-day home-stays with local farmers.