Chol Chnam Thmay, the traditional New Year festival of the Khmer community in southern provinces, will be observed in the culture-tourism village of Vietnamese ethnic people, Son Tay town, about 40 km west of Hanoi, on April 15.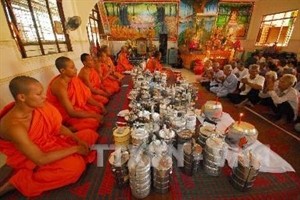 (Photo:VNA)
The festival will take place at the Khmer pagoda complex in the village, staging Buddha procession and bathing ceremonies and a ritual to see off a god called Tevada and welcome the new one, among others, the organisers told at a press conference in Hanoi on April 11.
The Chol Chnam Thmay festival in Hanoi is expected to welcome dignitaries from the Vietnam Buddhist Church, Nam Tong Buddhist sect, Buddhist followers and domestic and foreign visitors.
This is the highlight of a series of activities held by the Ministry of Culture, Sports and Tourism to mark the Culture Day of Vietnamese ethnic people (April 19), aimed at preserving and promoting cultural values of ethnic minority groups.
During six festive days, signature cuisines of ethnic minority groups and regions across the country will be presented along with products made by traditional craft villages.
The Chol Chnam Thmay festival, which falls annually in mid-April, is one of the most important festivals of the year for the Khmer people. It lasts three days or four days in leap years and is usually held in a pagoda during which people wish and pray for a lucky new year.