The People's Committee of Kien Giang Province held a festival yesterday to celebrate the 138th anniversary of national hero Nguyen Trung Truc's birth.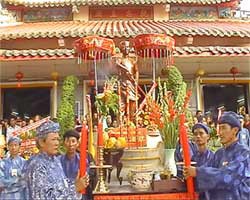 In the incense-offering ceremony at the Nguyen Trung Truc Temple
Nguyen Trung Truc was the leader of the anti-French colonialist uprisings in Southern Viet Nam and is remembered for his statement, "Only when all the grass in Vietnam is pulled up will there be no more Vietnamese people to fight against the aggressors."
Early that morning, more than 10,000 citizens and officials of the Mekong Delta's provinces gathered at the square in the heart of Rach Gia, where a statue of the hero stands, to hold a ceremony in remembrance. People reviewed his magnanimity and heroic sacrifice for the fatherland while praying to him.

The parade next traveled to the Nguyen Trung Truc Temple on the banks of the Kien Giang River to perform the incense-offering ceremony.

The ceremony was performed with great solemnity, but the festival will also include many interesting activities such as calligraphy, photography and painting of Nguyen Trung Truc's life on exhibit until Oct 20.