LOS ANGELES, California (AP) -- "King Kong" and "The Chronicles of Narnia: The Lion,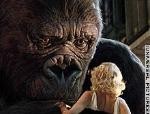 "King Kong" earned an estimated $31.4 million over Christmas weekend.
the Witch and the Wardrobe" battled for the four-day box office crown, with the giant ape finally swiping the Christmas holiday prize.
A Sunday night surge gave Universal's "King Kong" the needed push for the No. 1 spot over the Friday-through-Monday period with $31.4 million, edging Buena Vista's "Chronicles of Narnia" with an estimated $30.1 million take.
The box office lead shifted back and forth all last week as new releases cropped up on marquees Wednesday, Friday and still more Christmas Day.
"It's a battle of the holiday blockbusters. It was very close for the No. 1 position," said Paul Dergarabedian, president of box office tracker Exhibitor Relations Co. Inc.
"There's only so much room. I think crowded is the fair term to describe the marketplace right now," Universal Pictures vice chairman Marc Shmuger said Monday, noting overall box office was up 20 percent over the weekend compared to the previous weekend.
"These two movies are energizing the business," said Chuck Viane, president Buena Vista Pictures Distribution, adding "Narnia" is continuing to lure audiences in its third week of release.
"This is a fantastic hold," Viane said. "We're probably looking at breaking the $200 million barrier by New Year's Eve. I think what you have here is a movie instantly becoming one of those holiday classics."
Sony's "Fun With Dick and Jane" was third with $23.5 million.
"It doesn't get much better than having a Jim Carrey movie for the holidays," said Rory Bruer, president of distribution for Sony Pictures Entertainment.
"Cheaper By The Dozen 2" was fourth with $14.8 million and "The Family Stone" was fifth with $10.9 million.
"Memoirs of a Geisha" was in sixth place with $10.2 million, followed by "The Ringer" with $8.4 million, "Rumor Has It" in eighth with $7.5 million and "Wolf Creek" ninth with $5.9 million.
"Harry Potter and the Goblet of Fire," now in its sixth week of release, rounded out the Top 10 with a four-day tally of $5.7 million. Its North America box office take is now $262.4 million.
The Universal pictures "Munich" and "The Producers," in limited release, did well. "Munich" was No. 11 overall with a $5.7 million take at 532 theaters for a per-theater average of $10,735 and "The Producers," which expanded from six theaters to 975 on Christmas Day, earned $3.5 million for a $3,581 average.
Estimated ticket sales for Friday through Sunday at U.S. and Canadian theaters, according to Exhibitor Relations. Final figures will be released Tuesday.