Within the framework of activities to celebrate the 20th anniversary of Vietnam-South Korean diplomatic ties, 'Nanta', also known as Cookin' Nanta, a kind of Korean art performance using kitchen utensils, will be performed in Hanoi and Ho Chi Minh City.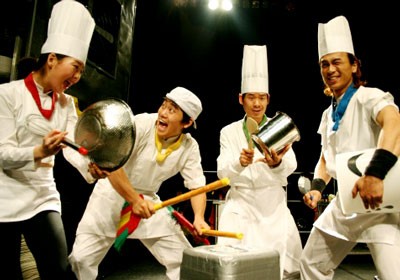 Cooks turn all kinds of kitchen implements into percussion instruments
Performances will take place in Hanoi from July 20-22 and at the Hoa Binh Theater in Ho Chi Minh City from July 27-29.

This particular form of performance is mostly non-verbal and   integrates traditional Korean percussion tempos with western performance style. This popular South Korean comedy musical show debuted in 1997 and won the hearts of audiences worldwide.

'Nanta' storms on to a stage set up like a huge kitchen where cooks are preparing a banquet. While cooking, they turn all kinds of kitchen implements-pots, pans, dishes, knives, chopping board, water bottles, even brooms and each other- into percussion instruments.

Cookin' Nanta was presented to Vietnamese audience on the occasion of APEC (Asia-Pacific Economic Cooperation) in Vietnam in 2006.