South Korean ballad band '2AM' will give a performance at the My Dinh Stadium in Hanoi on June 10.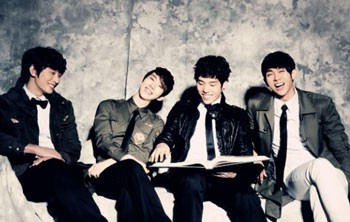 South Korean ballad band 2AM
The group will participate as guest stars in a Korean Taekwondo Association World Tour concert entitled "The TAL with 2AM"

The world tour will travel 198 countries and territories to promote Korean culture.

The first part of the concert will be an opera titled "Mask" performed by TAL- Taekwondo Absolute Legend and directed by Choi Sori.

The '2AM' group will be onstage together with singer Lee Hyun, leader of the Eight band.

The band has four members including Jinwoon, Jo Kwon, Seulong and Changmin.They officially debuted in July 2008 on KBS Music Bank, performing their debut number "This Song". Their hit single is "Can't Let You Go Even if I Die".

The Korean artist delegation will travel to Vietnam on June 9. They will have a fan meeting on June 11.
Tickets for the concert will be sold at No 3 Building, Tran Quy Kien Street , Cau Giay district, Hanoi.