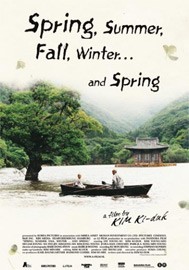 Poster of the film "Spring, Summer, Fall, Winter...and Spring"
Korean film week presenting seven excellent pictures including Short Time by director Lee Young-Eun ; Almost Love by Lee Han; Innocent Steps by Park Young Hoon; Long Winding Road by Koo Sung Joo; Love Fobia by Kang Ji Eun; A Millionaire's First Love by Kim Tae Kyun; Spring, Summer, Fall, Winter…and Spring by Kim Ki Duk will take place at the National Movies Center in Ha Noi and Galaxy cinema complex in Ho Chi Minh City from December 8 to 17.
With different themes and contents and Korean stars such as Ko Doo Shim, Jo Sung Woo, Kang Hye Jung, Hyun Bin the fimls are expected to attract Vietnamese movies lovers.
Korean Film Week is organized by the Viet Nam Association of Cinema, Korean Fund of International Cultural Exchange, Korean Ministry of Tourism, Korean Cultural Center in Ha Noi and Korean Consulate in Ho Chi Minh City.