The 2008 Korean Film Festival started in Ha Noi Thursday, opening with a special concert featuring Vietnamese and South Korean entertainers at the National Convention Center.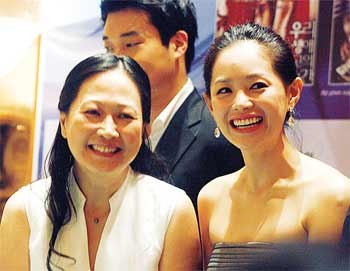 Vietnamese actress Nhu Quynh (L) and Korean movie star Lee Young Ah at the opening ceremony of 2008 Korean Film Festival in Ha Noi
The highlight of the show is Lee Young Ah, one of South Korea's most popular actresses.
She played the Vietnamese-Korean daughter of a woman played by Vietnamese actress Nhu Quynh in the film "Golden Bride".
"When the 2007 Korean Film Festival  was organized in Viet Nam, I arrived in the country for shooting the film 'Golden Bride," Ms. Lee said. "I met many Vietnamese who are living and working in Korea. I realized that most of them have a nostalgia and pride for Vietnamese food."
 
A series of South Korean pictures, including "Forever the Moment," "The Metro," "Kongmakgol Village" and "Marathon," will be screened during the festival.
The film fest is organized by the Embassy of the Republic of Korea in Ha Noi, the Korea Cultural Center, the Shinmun Daily and the Vietnamese Ministry of Culture, Sports and Tourism to mark the 16th anniversary of diplomatic ties between the two countries. The event will last until May 10.
Related article:
Top Actress to Visit Viet Nam for Korean Film Festival