A film festival organized by the Korean Cultural Center in Vietnam for the first time in the northern province of Thai Nguyen in two days December 17 and 18 in Beta Cineplex at 250 Quang Trung Street in Thai Nguyen Town with the sponsor of Korean Film Council.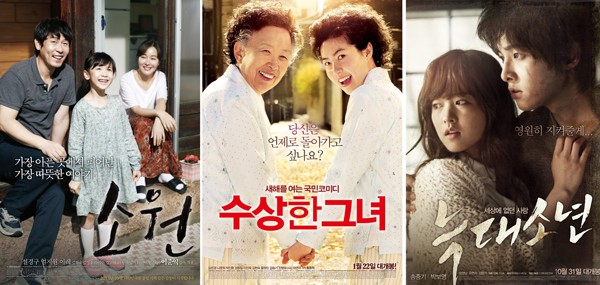 The poster of films screened in the festival
All films in the festival centering on theme of family love are highly praised by people in showbiz as well as resounded success regarding both domestic and foreign box office figures..

Three films will be screened including "Hope" - the winner of the "Best Film" prize at the 34th Blue Dragon Film Awards; "Miss Granny"-the first cinematographic work in the world to feature eight versions of different languages; and "A Werewolf Boy"- the all-time highest-grossing ROK film.

With humanitarian feature, these winning films are hoped to bring more understanding of Korean culture and lifestyle to Vietnamese people.

Currently, in Thai Nguyen Province, more than 20 Korean enterprises operate yet there has been little cultural exchange, accordingly, the Korean Cultural Center in Vietnam plans to bring more Korean films to residents and Korean community in Thai Nguyen Province so that people can have deep understanding of Korean culture.

Director of the center Lee Dae Joong said that the film festival is hoped to bring fresh air to enrich the life of residents in the province promising to showcase more famous Korean films to Vietnamese viewers on the celebration of 25th anniversary of Vietnam-Korea diplomatic relations.

Tickets are gratis.