Dr. Hangue Jeong, from the Korean Ministry for Food, Agriculture, Forestry and Fisheries, discussed how to make kim chi (pickled vegetables) at the Korean Food Festival in Hanoi November 13.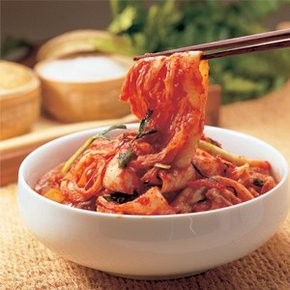 A kind of kim Chi
The food festival was held in Hanoi on November 13 and will run until 15.
Dr. Jeong said that Korea has nearly 200 kinds of kim chi, of which 50 are very popular in her country.
Korea has around 27 kim chi craftsmen and are considered a precious people by traditional food aficionados.
Dr. Jeong, whose major academic research is Korea's traditional kim chi, will stay in Vietnam until November 15.
She said she will help visitors to make kim chi, as well as giving them a chance to enjoy kim chi.
The festival, part of a Vietnam-Korea cultural exchange program, aims to introduce Vietnamese consumers to more than 50 kinds of high-quality produce, like fruits, ginseng and kim chi.