South Korean pop star and actress Jang Na-ra will travel to Ha Noi for a concert to be held on June 1. Jang played the lead role in the film "My Bratty Princess," which was recently screened in Viet Nam.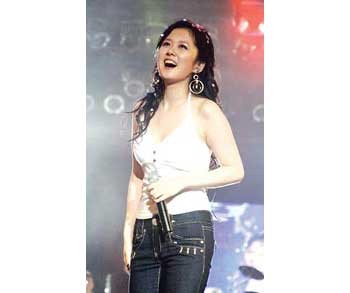 Korean Pop Star Jang Na Ra
Born in 1981 in Seoul, the svelte 45kg, 1.60m tall star modeled for some CF advertisements while still in high school. Later, she was a theater student in Chungang University.

She has released six albums. The Chinese versions of her songs "Sweet Dream", "It's Probably Love" and "I'm After All A Woman" (frequently cited as "I'm a Woman Too") get frequent radio play throughout Asia, especially in China.

Jang has performed at many concerts in China, often singing both Korean and Chinese songs. Her first Chinese album was a huge success, featuring previously released Korean songs translated into Chinese. She is now on tour to promote her sixth album entitle "Dream of Asia".
The performance, organized by the Korean Cultural Center in Viet Nam, is intended to strengthen the relationship between the two countries in the field of art and culture. It is her second time in Viet Nam. Vietnamese pop stars Dan Truong and Ho Quynh Huong will also be on stage.