Band Brown Eyed Girls and singer/model Kim Joon from the Republic of Korea  will treat Ho Chi Minh City audiences to a performance at the Lan Anh Music Venue October 24 with proceeds going to charity.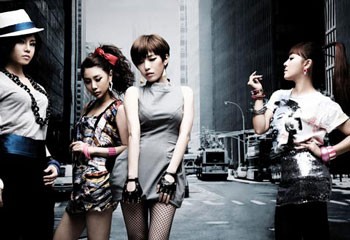 The Brown Eyed Girls
The show titled "Dream" will also feature Korean singer Park Sang Min and band T-Max together with famous Vietnamese singers like My Tam and Ung Hoang Phuc.
The event will raise funds for the city's Association in Support of Poor Patients, said organizers.
The show's stars will also take part in a press conference at the New World Hotel on October 23.
The Brown Eyed Girls consists of four members including Kim Hyojin, Son Ga-in, Park Hyojin and Cho Mi Hyea. Since debuting in 2006, the group has become well-known for its first single "L.O.V.E." from the mini-album With Love released in January 2008.
Kim Joon is a rapper, actor and model who shot to stardom after his portrayal as Song Woo Bin in KBS (Korea Broadcasting Stations) 2's 2009 hit drama Boys Over Flowers.

Kim Joon was already known as a member of K-pop group T-Max. He will perform the band's hit songs as well as Boys Over Flowers' soundtrack songs such as Say yes, Wish you're my love, and Bang bang boom.