The 2006 documentary Full Metal Village, by the Korean director Sung Hyung Cho, will bring hint of Europe to HCM City when it is shown May 19.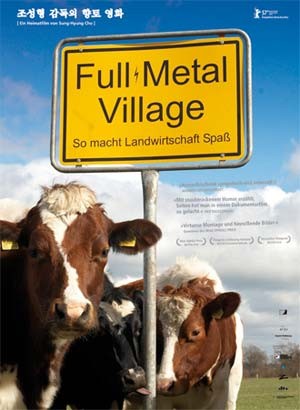 The poster for "Full Metal Village "
The film documents the lives of the 1,800 residents of a small and quiet German village of Wacken in the Schleswig-Holstein state.
Wacken, a sleepy German farming town, wakes up once a year to a rowdy heavy metal music festival.
Wacken's population is aging, as the younger residents migrate to the cities leaving the older generation to struggle against competition from factory farms.
Set against this backdrop, Korean born director Sung Hyung Cho explores the relationship of the 1,800 resident townsfolk and the brief annual influx of 70,000 heavy metal  enthusiasts.
The slow, cynically irreverent tone of the film lends an air of the absurd to both sides of the proceedings, including elderly villagers who confess to have 'heard' that the concert-goers worship Satan, and over-enthusiastic concert-goers head banging to the traditional regional anthem played by a local fire department band, which opens the festival.
The film, in German, with French and Vietnamese subtitles, will be screened 7.30pm at the French Cultural Exchange Institute, District 1.
Ticket's are available from IDECAF's box office at VND15,000 (US$0.84).