The K-Pop Festival 2012 concert was held at the My Dinh National Stadium in Hanoi on the night of November 29, with performances by two Vietnamese singers and 17 famous bands of South Korea.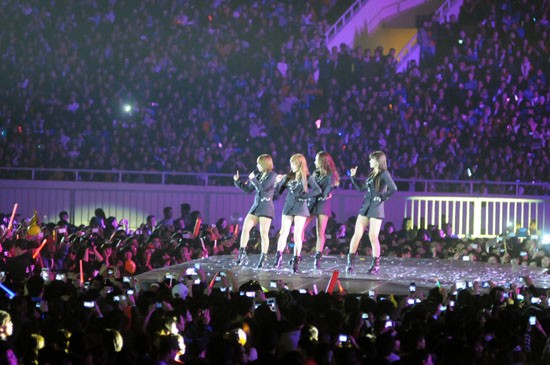 Four Korean girls of Miss A band
The event, the biggest of its kind in Vietnam, opened with impressive performances by Thanh Lam, Tan Minh and other artists of Dong Bang Shin Ki (TVXQ), SNSD (Girl's Generation), Beast, Sistar, B.A.P, T-ara, Son Dam Bi, Kara, Miss A, FT Island, Teen Top, Infinite, Hyun A, Ailee, B1A4, Fiesta and Chaos.
Approximately 50,000 young fans came to My Dinh to enjoy the show and were ecstatic with the colorful performances.

The Teen Top band, singing a Vietnamese folk song called 'Beo Dat May Troi' drew an enthusiastic applause from the audience.