The exhibition and seminar of Vietnamese lacquer paintings with the attendance of 130 painters will take place in Ha Noi from November 15 to 30 to welcome the APEC summit.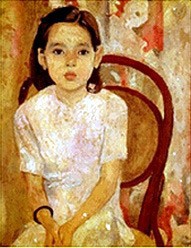 The lacquer painting Em Thuy (Little Thuy) by famous painter Tran Van Can
The exhibition will give the public a chance to learn about the history of Vietnamese lacquer painting and Vietnamese well-known painters, including Nguyen Gia Tri, Tran Van Can, Nguyen Khang, Le Quoc Loc and Nguyen Tu Nghiem.
The seminar will discuss the traditional lacquer painting art including questions of how the current lacquer painting inherits and develops the tradition, what should be done to honor the value of the lacquer painting, what the position of lacquer painting is in the art of painting, whether the industrial lacquer painting can kill the traditional lacquer painting.
The exhibition and seminar are jointly held by the Ministry of Culture and Information and Viet Nam Association of Fine Arts.